The Epic of Gilgamesh
The Epic of Gilgamesh is an epic poem from ancient Mesopotamia. Dating from the Third Dynasty of Ur (circa 2100 BC), it is often regarded as the earliest surviving great work of literature. The literary history of Gilgamesh begins with five Sumerian poems about 'Bilgamesh' (Sumerian for 'Gilgamesh'), king of Uruk. These independent stories were later used as source material for a combined epic. The first surviving version of this combined epic, known as the "Old Babylonian" version, dates to the 18th century BC and is titled after its incipit, Shutur eli sharri ("Surpassing All Other Kings"). Only a few tablets of it have survived. The later "Standard" version dates from the 13th to the 10th centuries BC and bears the incipit Sha naqba imuru ("He who Saw the Deep", in modern terms: "He who Sees the Unknown"). Approximately two thirds of this longer, twelve-tablet version have been recovered. Some of the best copies were discovered in the library ruins of the 7th-century BC Assyrian king Ashurbanipal. (from wikipedia.org)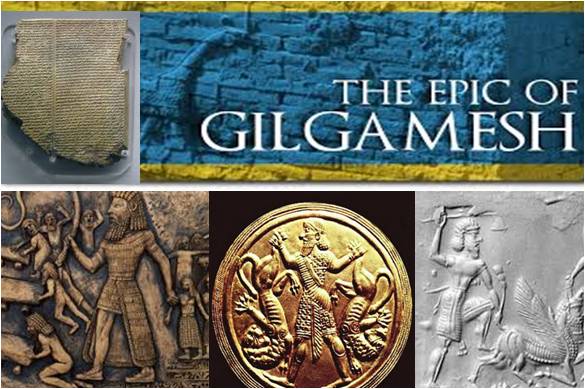 Related Links
Epic of Gilgamesh - wikipedia
The Epic of Gilgamesh is an epic poem from ancient Mesopotamia. Dating from the Third Dynasty of Ur (circa 2100 BC), it is often regarded as the earliest surviving great work of literature.
The Heroic Quest: Gilgamesh
The literary pattern of the "The Heroic Quest," in which a protagonist journeys to far-off lands in pursuit of an important goal, is literally the oldest story known to humankind, dating back to the Gilgamesh Epic of 2500 BCE.
Gilgamesh: Journeys to the End of the World
In this lecture, Dr. Tinney recounts some of Gilgamesh's greatest journeys and revisits discussions about what they meant back then, as well as what they mean today.
e-Books
The Epic of Gilgamesh
Translated and with an Introduction by Andrew George. The Babylonian Epic Poem and Other Texts in Akkadian and Sumerian. Contents. List of Figures. Preface. Introduction. ...
The Epic of Gilgamesh by Jason Colavito
The translation of the Epic of Gilgamesh below is a modernized, revised, and updated version of the text originally translated by William Muss-Arnolt in 1901 from the Neo-Assyrian tablets found in the Library of Ashurbanipal.
An Old Babylonian Version of the Gilgamesh Epic
By Morris Jastrow; Albert Tobias Craig. Published in 1920. Topics: Classic, Ancient Literature, Myths, Pre-modern, English, Epic. Publisher: Yale University Press.
An Old Babylonian Version of the Gilgamesh Epic
Author: Anonymous. Edited by Morris Jastrow; translated by Albert T. Clay. The Gilgamesh Epic is the most notable literary product of Babylonia as yet discovered in the mounds of Mesopotamia.