European Capitals of Music
European Capitals of Music (Gresham College). Famous musical capitals provide the framework for this series of lectures with live music. The first three concentrate not only on 19th century Vienna, but on Schubert in Vienna and writing chamber music. Why did this music happen then, where was it played, who provoked, performed and paid for it. And was it considered successful?

The final three lectures ask similar questions of other capital cities: 20th century chamber music in Paris, baroque music in London under the shadow of Handel, and virtuoso violin playing in Rome focused on Corelli, the 300th anniversary of whose death is being celebrated this season.

Christopher Hogwood CBE was a world-renowned conductor, keyboard player, musicologist, writer, editor and broadcaster. As well as being the Gresham Professor of Music between 2010 and 2014, he was the founding director of the Academy of Ancient Music for over thirty years, before holding positions at the Royal Academy of Music, the University of Cambridge and Cornell University. (from gresham.ac.uk)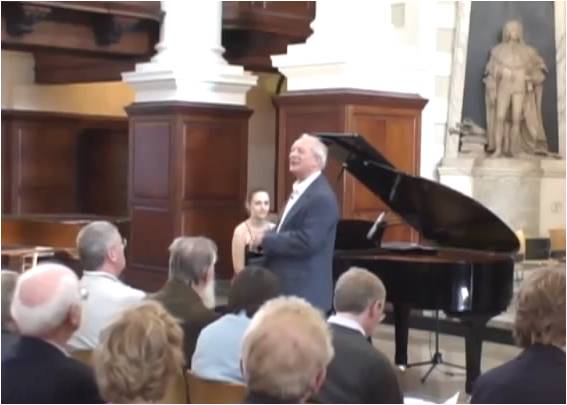 Vienna and Schubert: Fantasy in F Minor, D. 940
Florian Mitrea and Alexandra Vaduva, piano duet. A lecture by Professor Christopher Hogwood on Franz Schubert and Vienna, focusing especially on the Fantasy in F Minor, D. 940, for piano duet.
Vienna and Schubert: The 'Trout' Quintet
Schubert Quintet in A, D.667 'Trout'. A lecture and performance of Franz Schubert's Quintet in A, D.667, commonly known as the 'Trout' Quintet.
Vienna and Schubert: 'Death and the Maiden' String Quartet
Schubert String Quartet no.14 in D minor, 'Death and the Maiden' Jubilee Quartet: Tereza Privratska and Alanna Tonetti-Tieppo violin; Stephanie Edmundson viola; and Lauren Steel cello.
Paris: Debussy and Ravel
Debussy's Sonata for Flute, Viola and Harp is contrasted with Ravel's very different Sonatine for the same combination. Rehana Browne flute; George White viola; and Mary Reid harp.
London: Music under the Shadow of Handel
The Royal Academy of Music Baroque ensemble directed by Pawel Siwczak performed the following pieces to accompany Professor Hogwood's lecture ...
Rome: Corelli and Geminiani
An investigation into the performance style required by Corelli in his Op 5 solo violin sonatas and their arrangements as concertos by his pupil Geminiani.
Related Links
Listening to Music
This course fosters the development of aural skills that lead to an understanding of Western music.
The Language of Music
This course is a study of the ways music creatively expresses self-understanding, cultural environment, and aesthetic values from ancient to modern times.
Howard Goodall's Story of Music
This is a BBC documentary presented by Howard Goodall, tracing the story of music from the ancient world to the modern day.
The Making of a Masterpiece
Professor Christopher Hogwood presents a how-to guide and discusses the key features of the greatest musical works in history.
Music in Context
An analysis of key pieces in the classical music canon, considered within the context in which they were created.