Simon Schama's Power of Art
The power of the greatest art is the power to shake us into revelation and rip us from our default mode of seeing. After an encounter with that force, we don't look at a face, a colour, a sky, a body, in quite the same way again. We get fitted with new sight: in-sight. Visions of beauty or a rush of intense pleasure are part of that process, but so too may be shock, pain, desire, pity, even revulsion. That kind of art seems to have rewired our senses. We apprehend the world differently. (from bbc.co.uk)

Simon Schama's Power of Art is a BBC documentary series presented by Simon Schama, featuring eight artists - Caravaggio, Bernini, Rembrandt, David, Turner, Van Gogh, Picasso, and Rothko - and their works. The series consists of eight episodes, each of which portrays one of the eight artists - weaving his biography and historical context to help explain the true power of his works.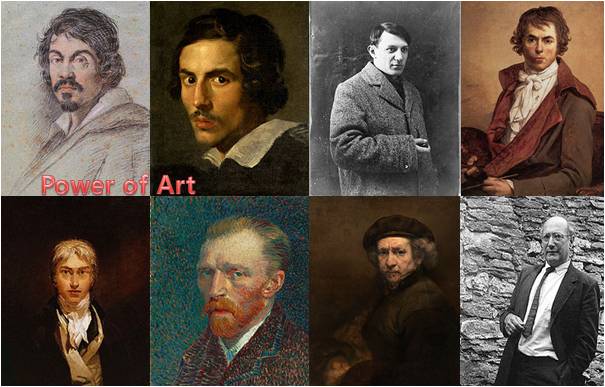 Michelangelo Merisi da Caravaggio
Caravaggio's approach to painting was unconventional. He avoided the standard method of making copies of old sculptures and instead took the more direct approach of painting directly onto canvas without drawing first.
Gian Lorenzo Bernini
Born in Naples, Bernini was an exceptional talent from an early age and went on to dominate the art world of 17th century Rome. His work epitomised the Baroque style and his sculpture, church interiors and exteriors and town planning could be seen everywhere.
Rembrandt van Rijn
Despite being known as a portrait painter Rembrandt used his talent to push the boundaries of painting. This direction made him unpopular in the later years of his career as he shifted from being the talk of the town to becoming adrift in the Amsterdam art scene.
Jacques-Louis David
David was interested in painting in a new classical style that departed from the frivolity of the Rococo period and reflected the moral and austere climate before the French Revolution.
Joseph Mallord William Turner
One of Britain's most celebrated artists, Turner showed exceptional artistic talent from an early age and entered the Royal Academy aged fourteen. His English landscapes made his name but there was a darker side to his paintings that was difficult for the critics to swallow.
Vincent Van Gogh
Born in Groot-Zundert, The Netherlands, Van Gogh spent his early life as an art dealer, teacher and preacher in England, Holland and Belgium. His period as an artist began in 1881 when he chose to study art in Brussels.
Pablo Picasso
Born in Malaga, Spain, Picasso's many styles and prolific work rate have marked him out as one of the most recognised artists of the twentieth century. Not limited to one medium he created sculptures, etchings and prints.
Mark Rothko
Rothko is known for his abstract expressionism paintings, but he moved through more traditional styles in his early career, including Surrealist paintings in the 1940s.
Related Links
Great Artists with Tim Marlow
This is an art documentary series presented by Tim Marlow, looking at the lives and works of some of the greatest artists in history.
The Great Artists: Romantics and Realists
This is a documentary series about the lives, times and works of some of the great painters in Romanticism and Realism, including Francisco Goya and Caspar David Friedrich.
Private Life of a Masterpiece
Private Life of a Masterpiece is a BBC documentary series that tells the stories behind great works of art.
Fine Art Collection
This is a BBC art documentary series hosted by Dilly Barlow and Leslie Megahey, exploring the life, work and legacy of some of the great masters of art from various periods.
Every Picture Tells a Story
This is a documentary series presented by art critic Waldemar Januszczak, looking at the secrets behind eight masterpieces including Mr and Mrs Andrews by Thomas Gainsborough, The Birth of Venus by Botticelli, and Mona Lisa by Leonardo da Vinci.
Landmarks of Western Art
This is a six-part documentary series that provides a comprehensive record of the greatest achievements in the history of western art from the medieval era to the post-impressionist world.